There are two types of professional-style ranges you can buy: Professional-style ranges manufactured by companies which are specializing in commercial grade appliances, and professional-style ranges manufactured by companies specializing in residential appliances. BlueStar and Capital are those company.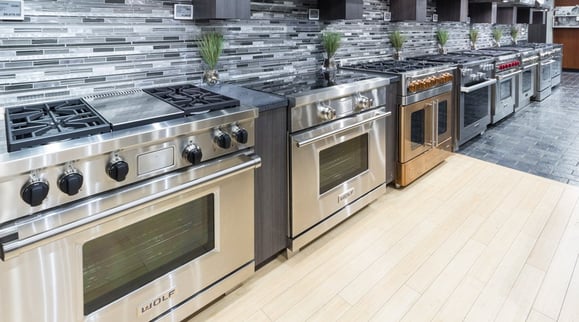 They are more commercial style whereas Jenn-Air, Miele, Wolf, GE Monogram and Thermador would be residential manufacturing Pro ranges.
Typically with the companies that specialize in commercial grade products, you will find higher BTU outputs, an option for restaurant-style open burners, and larger oven capacities. Open burners are typically what you'll see in a restaurant. More oxygen is able to reach the gas flame on an open burner for a higher/hotter temperature.
Residential ranges typically have sealed burners, clock and timers like you would find on a regular range. They are easier to clean as well.
So we will compare two true commercial range companies BlueStar and Capital. We will look at the companies, the products then compare.
Bluestar
BlueStar ranges originated in Reading, PA in 1880 from Prizer-Painter Stove Works, a manufacturing company of residential and commercial ranges, hot water heaters, furnaces, and heating stoves. Prizer-Painter Stove Works continued to manufacture high-end cooking products for over a century.
In 2002, Prizer introduced the BlueStar line, restaurant-quality ranges designed for the residential market. The BlueStar line is a new addition to the Yale floor. This company offers many ranges at a wide variety of prices, configurations, and colors.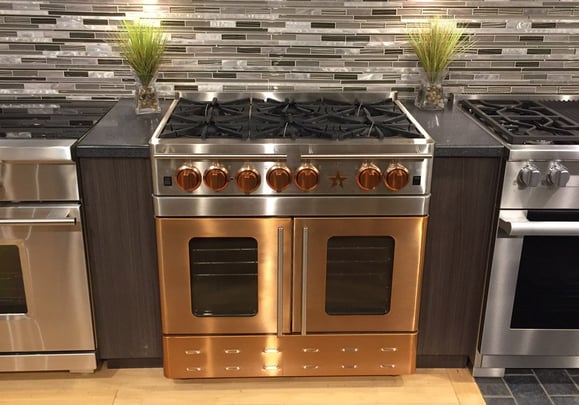 Different Range Series
There are many options with the BlueStar 36" model. You can configure the cooktop any way you like, 6 burners, 4 burners with a charbroiler / griddle or French top.
They offer 750+ color options and you can even send them a color you want to be customized and they will create it for you. If you want to break away from the stainless steel look, then BlueStar is your best option in terms sheer numbers of choice.
They offer a side-swing door option as well which makes life a lot easier when cooking something very large. You do not have to lift a turkey or roast over the door. You can also get a French door style which is a pretty cool feature for a Pro range.
You can purchase a sealed burner option or open burner. The sealed burner is only available in the Culinary series with 6 burners and a standard pull down door and only stainless steel. With the sealed burner it is easier to clean to clean but you do lose the BTU power.
Culinary (RCS) Series  $3,831 – $4,003
Two 18,000 BTU burners
Three 15,000 BTU burners
One 5,000 BTU simmer burner
Extra large oven capacity
Open or sealed burner option
Convection Oven
Nova (RNB) Series
Available in 4 options pricing from $6,298 to $7,687 depending on the configuration.
6 open burner option
4 burner with griddle / grill or French top option
Two 22,000 BTU output
15,000 BTU output Two or Three depending on configuration
One 9,500 BTU
Convection oven
750+ colors
5 cubic ft oven
Platinum Series – $8069
6 open burners
Interchangeable Griddle/Charbroiler
Convection oven
One 25,000 BTU burner
Two 22,000 BTU burners
One 18,000 BTU burner
One 15,000 BTU burner
One 9,000 BTU simmer burner
750+ color options
5 cubic ft oven
Precious Metals Series – $7,592 to $7,848
6 open burner option
4 burner with griddle/ grill or French top option
Two 22,000 BTU output
15,000 BTU output Two or Three depending on configuration
One 9,500 BTU
Convection oven
750+ colors
5 cubic ft oven
French doors
Heritage Series – $9,583
Two 22,000 BTU burners
One 15,000 BTU burner
One 9,000 BTU simmer burner
Over 750 color options
4 Open burners
Convection oven
BlueStar has a couple of unique features. The Salamander broiler allows you to quickly sear foods. It's what restaurants use to harden the top of Creme Brulee or sear the tops of steaks.
Lastly, BlueStar is the only company offering a pure gas convection oven. Third element convection is blown across and keeps a more even temperature than traditional fan assist gas convection. Most electric convection ovens have the third element.
Let me explain the difference between electric and gas very briefly. Electric is a drier heat and better for baking whereas gas is a moist heat and better for roasting.
Let's look at Capital.
Capital
Capital was founded by Surjit Kalsi in 2004. He is known to be a creator of high-end cooking appliances. He created the first Viking ranges with Fred Carl as well as founded the Dynamic Cooking System (DCS).
In 2001, his son Rich Kalsi started Capital cooking equipment with some of the other engineers from DCS. So even though they are a relatively new company, Surjit has a long history in the appliance industry.
Capital Ranges also provide restaurant style cooking. They offer the high BTU output and also the open burners. The Capital range with open burners will offer an output of 25,000 BTU's on all burners, and offer 2 series with different configurations.
Precision Series – $4,655 to $7,812
The rotisserie allows you to cook meats that will self-baste sealing in all of the juices. The ribbon broil element is under glass allowing for super even heat distribution as well as easy cleaning.
140 Deg simmer
10 color options
4 burner option with Grill or griddle or 6 burners
Self-clean or manual clean option
4.6 cu ft. capacity in sealed burner models
4.9 cu.ft capacity in open burner models
Convection oven
Sealed or open burner option
19,000 BTU burners for the sealed models
25,000 BTU burners for the open burner models
Auto ignition and reignition on all burners
Motorized Rotisserie option
The Culinarian Series – $7,249 to $7,699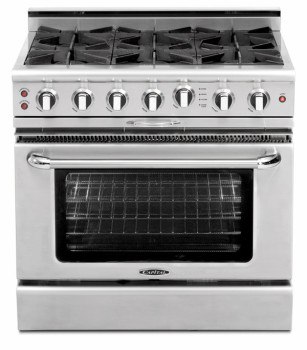 4 burner option with Grill or griddle or 6 burners
23,000 BTU burner output
8,000 simmer burner
Open burners only
Convection oven
Auto-ignition/re-ignition on all open top burners
Self-clean oven
10 color options
BlueStar vs. Capital Pro Ranges Compared
These are almost completely different yet similar ranges. Both offer power, but Capital offers slightly more. Their big advantages are self-cleaning and a rotisserie.
BlueStar has the ability to customize your range any number of ways from colors and trims to different door swings. The Salamander is great if you use it, but the gas oven is probably the best on the market…yet it is not self-cleaning.
So once again, it depends on how you like to cook. Both tops should be able to perform well, but BlueStar may be a better overall oven if you like to roast or want to stand out in the sea of stainless looking products.