Nowadays, most refrigerators feature an ice maker. However, it can only produce up to 15 pounds of cloudy ice per day.
Most ice maker brands are able to produce up to 70 pounds of ice per day and store up to 30 pounds. Stored ice does not last long as it eventually melts and is drained. We made a video comparing both types of ice.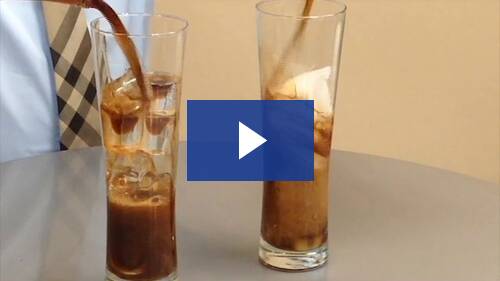 It is important to know that there is no such thing as a QUIET ice maker. Ice makers continuously produce, drop, and melt the ice. The process starts again and again. Make sure to design and locate the ice maker far away from family rooms for that reason.
We will describe clear ice makers, their benefits and then compare the three best: Scotsman, Sub-Zero and True.
All about Clear Ice
How is clear ice made?
These products produce clear, restaurant quality ice by spraying water upwards onto a metal grid at a temperature of 32 degrees. Because only pure water freezes at this temperature all the impurities in the water are discarded and you are left simply with pure, clear ice.
What is the benefit of clear ice? 
Clear ice does not have the impurities of the regular icemaker in the refrigerator, so your drink will taste better. It also melts slower, so there is less water in cocktails and spirits like scotch and whiskey.
You have different cube choices. Once again, a slushy cube is better for soda whereas the barrel shape is better for cocktails.
Maintenance
Every 6 months you will need to clean and sanitize your icemaker. This will increase its reliability, performance and help minimize water and electricity consumption. A water filter is recommended. It is crucial to have this maintenance regularly to ensure the lifespan of the ice machine. 
To ensure the water drains properly and to prevent future service issues a pump attachment is a strongly recommended option. Pumping the water is far better than draining by gravity.
Best Clear Ice Makers for 2016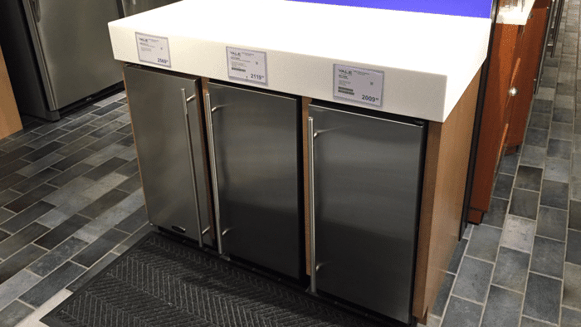 3 – Scotsman SCCP50M-1SS – $2,999
Scotsman has been one of the leading manufacturers of commercial ice makers in the world. They produce one of the highest quality residential ice makers on the market.
This model produces up to 65 lbs. of gourmet ice in 24 hours period
Stores up to 26 lbs of ice
Water-quality sensor detects hard water conditions and control system purges mineral laden water with every harvest cycle, which helps extend the time between cleaning
User-friendly control panel informs whether power is on, alerts a no-water condition, and a time to clean reminder
Built-in drain pumps
Lighted bin and self-closing door
When installing the ice maker under the counter there are several options like a custom wood front to have the ice maker blend with the cabinetry around it or finishes such as stainless, black or white.
2 – Sub-Zero UC-15IP – $3,559 (stainless panel extra)
Sub-Zero is also family owned. They were founded in 1943 and also specialize in residential high-end built-in appliances. Sub-Zero has the UC-15IP clear ice maker with a pump, which is about $3,700 when you add the stainless steel panel and handle. It has the following features:
Makes 50 lbs. of ice in a 24 hour period
Stores 25 lbs. of ice
Produces ice in temperatures up to 100 degrees F
Clean indicator light to let you know when to clean the ice maker
Water filter
Exclusive cubed shape prevents clumping
2-year warranty
1 – True TUI-15-R-SS-B – $3,489
True has introduced the most energy efficient ice machine on the market and is the commercial leader worldwide. This ice maker can even be used outside, because the construction is so incredibly solid.
Zero clearance hinging
Built-in water filter rated up to 1,250 gallons
Auto clean system
Ice scooper integrated inside door
300 series stainless steel or panel ready
70 lbs of Clear Ice in 28 lbs storage capacity
14 TriLumina LED lighting with multiple color options
You can adjust the size of the ice cube
3-Year Warranty
Which Should You Consider?
Sub-Zero tests every product before it leaves the factory. I was asked if a Sub-Zero was ever DOA and my answer was no after 13 years at Yale. That is impressive.
You would automatically say True for features, because it can produce and hold more. The color light options are a nice touch, and you can control the size of the cube with 5 different settings. The most fully featured icemaker of them all. The warranty is the best as well at 3 years.
Scotsman is not widely sold, and not familiar with most households. Their slushy cube is the best for sodas and bottled waters.
If you want the most reliable ice maker I would choose Sub-Zero or True. Backed by reputable names, and better warranties.
Final Thoughts 
Having an ice maker is a great final touch to your new kitchen. It adds a great entertainment environment. Before picking and choosing an ice machine, you have to commit to maintenance.
CLEAN, CLEAN, and CLEAN.
The cleaning must be taken seriously, otherwise it can spread and be contaminated by viruses, bacteria and mold. I would encourage cleaning 2-4 times a year if not more.
Cheers!